February 26, 2021: Please join writers Natalie Hopkinson and Sheryll Cashin for a lively exploration of racial justice, segregation, and the resilience of Black culture within our shared, ever-evolving democracy – in the context of our city, Washington, DC.
This hour-long conversation will probe the topic of DC's changing racial and economic demographics and touch upon what both segregation and gentrification have meant for its residents, in the arts, schools, neighborhoods, and halls of local and federal power.  
Additionally, we are honored to present Dr. Hopkinson with the PRRAC Civil Rights Award marking our 30th anniversary. 
Featuring:
Natalie Hopkinson, Associate Professor of Communication, Culture and Media Studies at Howard University, co-founder of Don't Mute DC, and author of Go-Go Live and other works.
Sheryll Cashin, Professor of Law, Georgetown Law and PRRAC Board Member, author of White Space, Black Hood (forthcoming) and contributing editor, Politico Magazine.
Moderated by Megan Haberle, Deputy Director, PRRAC.
PAST
September 19, 2019: PRRAC and NCSD hosted a powerful conversation, The Lines Between Us: At School and at Home. We discussed what divides Americans and what can bring them together. Who gets to live where? Who goes to school with whom? Will our government push us apart or pull us together?
Segregation continues to divide American neighborhoods and public schools. School desegregation plans have been dismantled, and the U.S. Department of Housing and Urban Development recently moved to weaken the disparate impact standard, one of the most powerful legal tools available to counter residential segregation and other forms of discrimination.
Our panelists are:
Moderated by J. Brian Charles, a freelance reporter who co-authored Governing's comprehensive "Segregated in the Heartland" series.
October 16-17, 2018: The Poverty & Race Research Action Council (PRRAC), MobilityWorks, and the Council of Large Public Housing Authorities (CLPHA) hosted the 7th National Housing Mobility Conference.  People from across the country, including public housing authority officials, researchers, and nonprofit leaders gathered to better understand how to further housing mobility and find new ways to collaborate on mobility efforts. The conference specifically recognized the pivotal moment in which we live; the housing mobility "movement" is growing and wielding greater influence: Some recent successes and notable occurrences, include bipartisan congressional support for the housing mobility demonstration bill, the growth of the MobilityWorks technical assistance group, and the release of the Opportunity Atlas from Raj Chetty and colleagues, further demonstrating the economic mobility potential of housing mobility…See More
April 26, 2018: PRRAC presented Reproductive Justice and the Politics of Resistance: An Evening with Loretta Ross and Rickie Solinger…Photo Gallery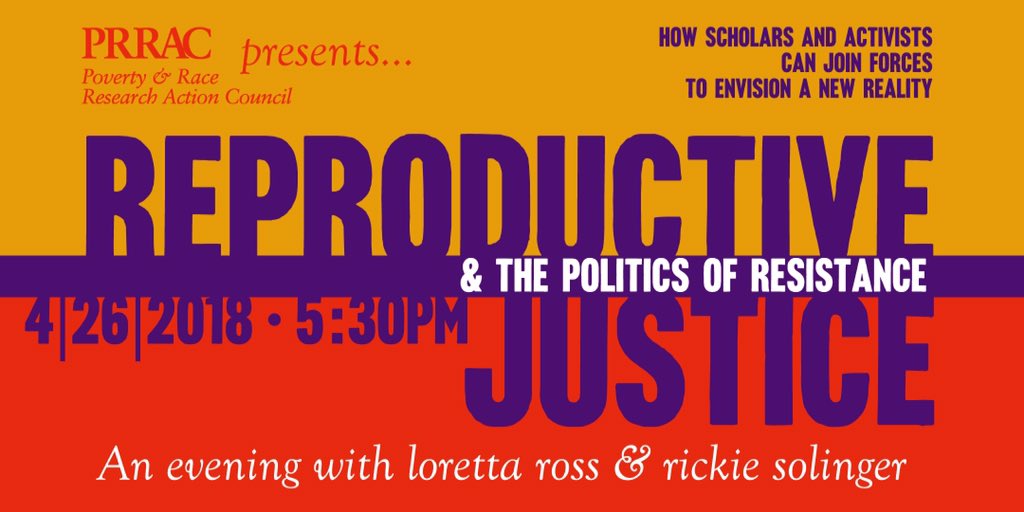 April 25, 2018: PRRAC and the Lawyers' Committee hosted an in-depth look at the 50th anniversary of the Fair Housing Act: The Fair Housing Act At 50…Photo Gallery
April 18, 2018: PRRAC hosted a symposium on Civil Rights Intersections: Celebrating 50 Years of the Fair Housing Act in Selma, Alabama…Photo Gallery
March 22, 2018: PRRAC hosted a symposium on Fair Housing Intersections, exploring the connections between housing policy, transportation, and environmental justice…Photo Gallery